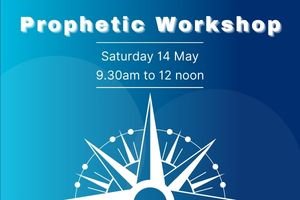 Prophetic Workshop
A fresh Prophetic impartation!
Following on from our Unwrapping Spiritual Gifts teachings towards the end of 2021, we are planning to hold Practical Prophetic Workshops to give time and attention to practice/train using the gifts God has given us in a safe place. We know the gifts are for use in everyday life, as well as in corporate meetings. We have to become comfortable and adept in the supernatural – God is able to do so much more than we can in the natural!
Topics include (not exclusively):
Prophetic worship – choosing songs for worship; singing the song of the Lord; creating new songs in line with what God is revealing through preaching
Waiting to hear His Voice and making declarations
Prophetic – visions and dream interpretation
Ways to help build confidence in giving a prophetic word – past, present future
Thinking prophetically when engaging with personal evangelism – treasure mapping concept
Using all the gifts – thinking broadly
Questions & Discussion
Those who minister will share from their experience and understanding – we need to exhort each other to prophecy. We may invite a seasoned prophetic trainer if she's available, but we will also share some teaching and have practical sessions – use it or loose it!
Exciting times ahead – fan into flame the gifts given!