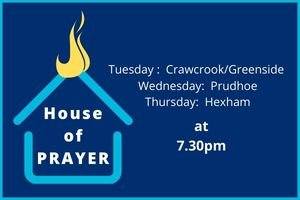 House of Prayer (Prudhoe – morning)
Join us for a Season of Prayer, either in your home with a few folks or joining with others near you.
We would like to commence from Tuesday 26 April. If a particular night does not suit you, feel free to join in another town. We'll meet in this way in term time until the end of July 2022.
Worship, praise report, pray a scripture or a prophetic word, encourage each other – think locally.
Where is the concept of the "house of prayer" found in the Bible?
The House of Prayer movement is growing all over the globe; although we are not looking to copy anyone, the Bible gives us plenty encouragement to pray! The book of Acts relates how the early church met together: "And they continued steadfastly in the apostles' doctrine and fellowship, in the breaking of bread, and in prayers. Then fear came upon every soul, and many wonders and signs were done through the apostles. Acts 2:42,43
The phrase house of prayer is from Isaiah 56:7, where it is used twice: "These [foreigners] I will bring to My holy mountain and give them joy in My house of prayer. Their burnt offerings and sacrifices will be accepted on My altar; for My house will be called a house of prayer for all nations.
any question or just a chat: 07944118314 / 07985473484